Expert Floor Coating Contractors Serving Homeowners in New Haven, IN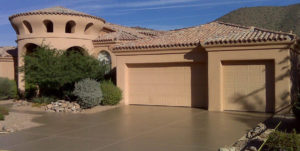 Whether for your garage, basement, or exterior space such as your patio, epoxy coating is often the best way to protect and beautify concrete floors for a lifetime. However, the quality of epoxy coatings varies widely—as does the workmanship of the floor coating contractors that install them. For a value-driven floor coating solution at your home in New Haven, Indiana, turn to GatorGuard. We install top-of-the-line products that provide a lifetime of resistance to:
Fading
Cracking
Peeling
Staining
Delamination
Chemical abrasion
Concrete Coating Systems to Suit Any Homeowners' Needs & Budget
As your floor coating contractor, GatorGuard can provide a variety of epoxy coating systems. For interior projects, we often recommend our full broadcast coatings, which are guaranteed for a lifetime and are available with a variety of full PVA chip spreads and/or mica flakes to create bold, appealing styles. What's more, for projects that call for a more artistic touch, we can provide Liquid Art metallic coatings with bold colors and a high-gloss finish. This product is perfect for interior spaces, such as basements and laundry rooms, that won't experience vehicle traffic.
For exterior applications, such as patios, driveways, and pool decks, our concrete sealing is the perfect solution. For decades, you'll be able to count on your epoxy coating to protect concrete form weathering or deteriorating due to exposure to ice-melting chemicals and salt.
Additionally, GatorGuard's rigorous installation process ensures superior results. Unlike other floor coating contractors that provide one-day installations, we use a multi-day process that allows time for proper mechanical bonding to concrete. This along with our inclusion of a moisture mitigation to protect against hydrostatic pressure provides a top-of-the-line finish that will look and perform like new for decades.
Schedule Your Consultation
Are you ready to protect and beautify concrete flooring in your garage, basement, laundry room, or outdoor space? Contact GatorGuard—New Haven's premier floor coating contractor—today to schedule your free consultation.