Concrete Patio Sealing for Your Royal Oak, MI, Home's Outdoor Space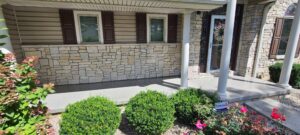 Are your patio's concrete floors looking a bit worse for wear? Concrete, while a common flooring choice for patios, is easily stained, cracked, and scratched. But with concrete patio sealing from GatorGuard, you can have beautiful and well-protected floors in no time!
Porches and patios are frequently used as spaces for friends and family members to gather—which means these areas experience heavy foot traffic. The patio floor coatings we install at GatorGuard are extremely durable and built to defend your floors against regular wear and tear, weathering, and harsh chemicals used outdoors. That way, you can enjoy your outdoor spaces without worrying about damaging your concrete floors.
Benefits of Our Industrial-Grade Concrete Patio Sealer
Not only does concrete patio sealing protect your floors, but it also allows you to spend your weekends enjoying your patio rather than maintaining it. Our concrete sealing is:
Low maintenance
Molecularly bonded
UV stable
Chemically resistant
Calcium-chloride resistant
Eco-friendly
And to put the cherry on top, we install all our concrete patio sealings with GatorShield—a moisture mitigation barrier than helps protect your floors against the negative effects of hydrostatic pressure.
Contact GatorGuard for Your Floor Sealing Project
GatorGuard is family-owned and -operated business that focuses on providing high-quality products and customer satisfaction. Contact us today to learn more about our concrete patio sealing services. And if you're looking to protect the floors inside and outside your home, we also install concrete floor coatings for indoor spaces, such as garages and basements. We look forward to hearing from you, and protecting the concrete floors of your Royal Oak, MI, home.