High-Performance Basement Floor Coating Installed by Experts in the St. Clair Shores, MI, Area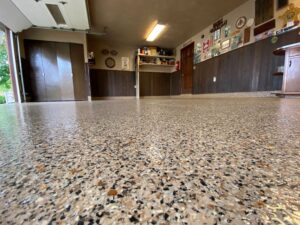 If you walk into your basement, what type of flooring will you be greeted by? Concrete, carpet, and hardwood are all possibilities—but you may notice the visible damage caused by years of foot traffic and general wear and tear. If this is the case, you might want to look into a more durable solution like epoxy basement floor coating.
GatorGuard offers high-quality, long-lasting, and beautiful epoxy floor coatings for homes in and around the St. Clair Shores, Michigan, area. You can choose between our two fantastic options—full-broadcast and Liquid Art metallic—to completely transform your basement floors.
The Best Flooring for Your Basement
Choosing the best flooring for your basement can be difficult. Carpet is a popular choice for those with children, and hardwood can be appealing to the eye, but the reality is that basements tend to hold a lot of humidity. Carpet and hardwood do not hold up well against moisture due to their nature—both tend to absorb water, resulting in mold growth and damage. Concrete is more water resistant, but it is easily stained and cracked.
With GatorGuard's epoxy basement floor coating, you will not need to be concerned about the impact of water, stains, or heavy foot traffic. Our epoxy floor coatings are highly durable, non-slip, low maintenance, and attractive to boot. Both our full-broadcast and Liquid Art metallic options are sure to give you a long-lasting basement floor, regardless of what you do with your space. And for further protection, GatorGuard also installs GatorShield—a moisture mitigation barrier—to prevent damage caused by hydrostatic pressure.
Let's Get Started
Whether you're ready to start your basement floor coating installation or you want more information on our offerings, the team at GatorGuard is ready to help. Give us a call today. We look forward to helping you revamp your St. Clair Shores, MI, home's basement into a sleeker, more beautiful space.