Premium Epoxy Coatings to Protect the Garage Floor in Your St. Clair Shores, MI, Home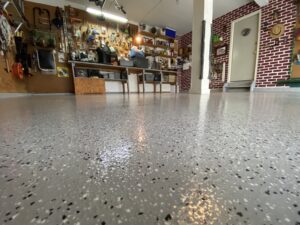 There's no shortage of companies offering garage floor coatings in St. Clair Shores, Michigan. However, when it comes to quality, value, and service, no company compares to GatorGuard. We prioritize customer satisfaction above all else, and it shows in the:
Concrete Coatings We Offer
Concrete coatings vary in quality. To ensure our customers receive the best possible value, we use premium full broadcast coatings—a multi-layer epoxy system that leads the industry in terms of:
Resistance to chipping, cracking, abrasion, staining, and fading
Number of beautiful color, style, and pattern options to choose from
Safety and ease of maintenance
Our epoxy coatings even defend against corrosion due to extended exposure to salt and ice-melting chemicals tracked in by vehicles. This is a major benefit, as such corrosion can cause extensive damaged this is costly to repair.
Installation Process
Garage floor coating companies offering one-day installations don't mention that such a fast installation time comes at the expense of quality. At GatorGuard, our multi-day process ensures each layer has the chance to properly cure and bond with concrete, providing superior stability and longevity. And, we include a moisture mitigation barrier to defend against the harmful effects of hydrostatic pressure.
Additionally, we have our own team of manufacturer-trained installers handle these projects—not subcontractors. Because we use exceptional products and installation techniques, we are able to provide an outstanding limited lifetime warranty.
Service We Provide
GatorGuard goes above and beyond to make the concrete floor coating process as easy as possible. An expert will review all of your options, so you can make an informed choice for your home. You can also expect our team to provide clear communication and treat your home with the utmost respect. To make the process even more convenient, we can even provide a Move Out, Move In service—we will carefully empty your garage and return the contents once the project is finished.
For more information about why you should trust the garage floor coating project at your home in St. Clair Shores, MI, to GatorGuard, contact us today.