A Top-Tier Floor Coating Contractor Serving Town and Country, MO, Homeowners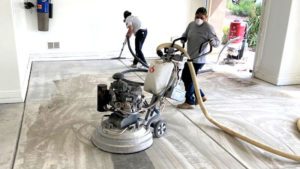 GatorGuard is proud to offer high-quality, expertly installed epoxy floor coatings to homeowners in Town and Country, Missouri. Our floor coatings can improve the look of your space, cover imperfections in the concrete, and reduce maintenance requirements. They are ultra-durable and resistant to damage from foot and vehicle traffic like scuffing, cracking, and staining. As a family-owned business, GatorGuard is dedicated to providing top-notch customer service as well as a floor coating that you can rely on for a lifetime.
A Cut Above Other Floor Coating Contractors
We offer three different types of epoxy floor coatings:
Full-broadcast floor coatings – These are our most durable floors, and we back them with a lifetime warranty. Our full-broadcast coatings are available in dozens of colors, styles, and textures so you can customize your floor coating to match your home and your personal taste. They are perfect for garages and other high traffic areas.
Liquid Art metallic epoxy floor coating – Our installers will create a unique metallic swirl pattern in your choice of color. This floor coating features a high-gloss clear coat that helps reflect light to illuminate dark spaces—perfect for basements, laundry rooms, kitchens, and so forth.
Clear concrete sealant – This option is specifically for outdoor concrete surfaces such as pool decks, driveways, patios, and walkways. It protects your concrete from stains and is easy to rinse clean.
However, what really sets us apart from other concrete floor coating companies is that all our floor coatings are installed with our GatorShield moisture mitigation barrier. This prevents hydrostatic pressure from causing your floor coating to peel or delaminate.
We also offer our White Glove Service to make the process completely hands-off for you. We'll pack up all your belongings in the area where we'll be installing your new floor coating, store everything securely while we work, and then replace it all exactly as it was after we're done.
Contact Us Today
To learn more about the most trusted floor coating contractor serving Town and Country homeowners, contact GatorGuard today.