Expertly Installed Basement Floor Coatings for Westerville, OH, Homeowners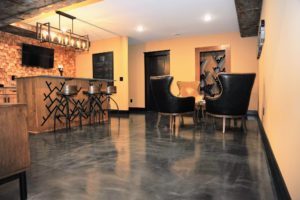 If you have a concrete basement floor, it can be difficult to know what to do with it. Should you leave it as bare concrete and risk cracks and damage, add carpet which might become soiled and musty, or go the hardwood route despite the potential for dents and scratches?
Allow GatorGuard to present an alternative option: epoxy basement floor coating. Our floor coatings are highly durable, long-lasting, and easy to clean, making them an ideal option for your Westerville, Ohio, basement.
Our Basement Floor Coating Options
We offer two different types of basement floor coatings, allowing you to select the best one based on your aesthetic and functionality preferences. You can choose between:
Full broadcast basement floor coating – This exceptionally durable coating is backed by our limited lifetime warranty. It can cover existing imperfections in your concrete floor and help prevent any future damage. It's resistant to damage from heavy traffic and dropped objects, as well as to abrasion from salt or de-icing chemicals that may get tracked in on shoes. This coating is available in a wide array of color and style options and features a non-slip surface for added safety.
Liquid Art metallic basement floor coating – Our installation technicians will create a one-of-a-kind swirled design with this eye-catching metallic floor coating. It's available in a variety of neutral and bold colors and features a high-gloss finish that reflects light and helps illuminate dark areas.
The GatorGuard Difference
We install all our basement floor coatings with our GatorShield moisture mitigation barrier. This helps prevent the adverse effects of hydrostatic pressure, which include peeling, delamination, and premature damage to your floor coating.
At GatorGuard, we also offer a Move Out, Move In service so you don't have to lift a finger. We'll pack, move, store, and unpack all the furniture and belongings in your basement for maximum convenience.
Contact GatorGuard today to learn more about our basement floor coating options and to schedule a consultation at your Westerville, OH, home.