Full-Broadcast Epoxy Garage Floor Coatings for Homes in Westfield, IN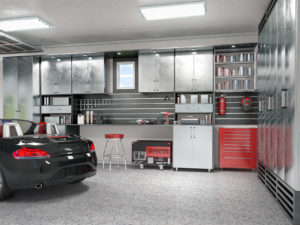 Have you noticed your home's concrete garage floors have seen better days? While concrete is a very common choice for garage floors, it's not the most durable flooring option on the market. For this reason, you may notice the flooring in your garage is cracked, chipped, and stained from years of parking your car, moving storage bins, and completing household projects. But if you're tired of seeing the damaged floors in your garage, GatorGuard has a solution: high-quality garage floor coating systems.
With a full-broadcast epoxy floor coating installed by GatorGuard, your garage floors will be both beautiful and functional. We are a family-owned and -operated business, and our technicians are fully trained and ready to provide top-notch products and services to homeowners in Westfield, Indiana.
Benefits of Our Concrete Garage Floor Coating
If you're looking for an epoxy floor coating that does it all, then GatorGuard is the garage floor coating company to partner with. Our floor coatings are made to maintain the integrity of your concrete floors while making them stronger. Our premium garage floor coatings are:
Low maintenance
Scratch, stain, and crack resistant
Non-slip
Reflective
Easy to clean
Installed with GatorShield—a water mitigation barrier that protects your floor against the effects of hydrostatic pressure
Our full-broadcast epoxy floor coating is also backed by a limited lifetime warranty, so you can rest easy knowing your investment is well protected.
Partner with GatorGuard Today
As Westfield, Indiana's premier floor coating contractor, you can count on GatorGuard to provide high-quality garage floor coating solutions that will last many years. For more information on our products and services, contact us today. We look forward to working with you!