A Local Floor Coating Contractor Proudly Serving Homeowners in Woodburn, IN, and Beyond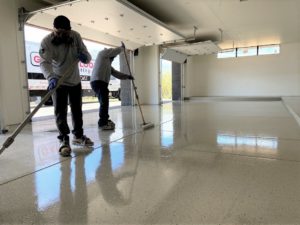 So, you've decided you want a concrete floor coating for the floors in and around your Woodburn, Indiana, home. Now, the next task is finding the perfect local floor coating contractor for the job.
GatorGuard installs high-quality epoxy floor coatings for homeowners throughout the area, and we'd be more than happy to help you with your flooring project. You can choose from our three concrete coating options: full-broadcast epoxy floor coating, Liquid Art metallic epoxy floor coating, and concrete sealing. Our products are extremely durable, so your floors will be protected for years to come.
Epoxy Floor Coatings
The two indoor epoxy floor coatings we install are our full broadcast and Liquid Art metallic coatings. Our full-broadcast coating is ideal for indoor spaces with concrete floors that receive regular foot traffic and heavy wear, such as garages and basements. We even offer a limited lifetime warranty on our full broadcast system to further show we are a floor coating contractor you can rely on.
Our Liquid Art metallic coating is for those who want to transform their floor into a one-of-a-kind work of art. Our Liquid Art offering comes in shiny, metallic hues and swirling designs that will bring your concrete floors to life. This coating is best suited for laundry rooms, basements, and entertainment spaces.
Concrete Sealing
If you're looking to seal the concrete floors outside your home, look no further than the concrete sealing offered by GatorGuard, your trusted floor coating contractor. This flooring is ideal for patios, porches, driveways, pool decks, and more, as it will help protect your floors from weathering and frequently used outdoor chemicals.
All our floor coatings are resistant to cracking, scuffing, and staining, and are extremely easy to clean. They are also installed with GatorShield—a moisture mitigation barrier that will help protect your floors against the effects of hydrostatic pressure.
Partner with Your Local Concrete Floor Coating Contractor
To learn more about the concrete floor coatings and sealing offered by your neighborhood floor coating contractor, GatorGuard, contact us today. We look forward to beautifying your Woodburn, IN, home.