Premium Concrete Patio Sealing for Homes in Zionsville, IN, and Beyond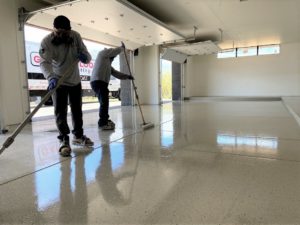 Porches and patios typically see a lot of foot traffic due to their location outside of the home—so it shouldn't come as a surprise when your patio floors begin to show signs of wear. Concrete is a commonly used flooring material for both indoor and outdoor spaces, but it's susceptible to staining, cracking, and chipping, which is why you should consider concrete patio sealing from GatorGuard.
We help homeowners throughout the Zionsville, Indiana, area with concrete flooring projects, and we'd love to upgrade your patio floors. With a patio floor coating, you can say "goodbye" to damaged, high-maintenance concrete floors and "hello" to your new protected, low-maintenance floors.
Installing the Best Concrete Patio Sealer on the Market
The concrete patio sealing we install at GatorGuard does three things to your concrete floors: enhances, beautifies, and protects. Plus, our sealing isn't just great for patios. It can also be installed on the concrete floors of your:
Pool deck
Driveway
Walkway
Porch
What makes our concrete patio sealing unique is its impermeability to moisture. This helps keep your floors free from scratches, cracks, stains, and weathering. What's more, all our floor coatings are installed with GatorShield—a moisture mitigation barrier that will protect your floors against the harsh effects of hydrostatic pressure.
The Floor Coating Contractor Serving Zionsville, IN
GatorGuard is proud to serve homeowners across the state, and we'd love to transform your patio's concrete floors with our concrete patio sealing. To learn more about our products and services, reach out to our team today. We look forward to hearing from you!