Your Local Floor Coating Contractor Offering Durable Concrete Coatings in Allen Park, MI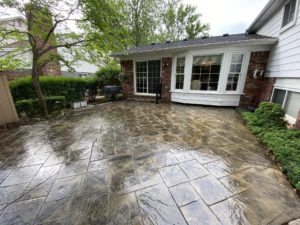 A floor coating contractor should be reliable, professional, and honest—and GatorGuard is all three. We install high-quality concrete floor coatings inside and outside homes throughout Allen Park, Michigan, and we'd love to assist you with your next flooring project. We have been helping homeowners with all their floor coating needs since we opened our doors in 2017.
GatorGuard offers three different types of epoxy floor paint: full-broadcast epoxy floor coating, Liquid Art metallic epoxy floor coating, and concrete sealing. Each is unique in its own way and will keep your concrete floors safe from cracking, staining, fading, and more. Our manufacturer-trained installers work for us in-house, so you can rest assured your flooring project will be handled by qualified professionals.
Why We Are the Best Floor Coating Contractor for the Job
Whether you're looking for a concrete garage floor coating, a concrete patio sealing, or a unique basement Liquid Art floor coating, GatorGuard can help. All our services are completed expertly and thoroughly, and our installation process is as follows:
Design Your Project
The very first step in our floor coating installation process is to design the perfect solution for you and your home. One of our professionals will explain the differences between our floor coatings and let you decide which is the best fit for your flooring project. Then we get to work by taking measurements of your space and providing you with a quote.
Prepare Your Floors
This is a critical step in the installation process. Our experts will use a Diamond Grind to prepare your concrete floors for their new coating. This helps remove any contaminants. Next, we'll repair any cracks or chips in your floors.
Coat Your Floors
Lastly, we'll get to work installing your new epoxy floor coating! We'll apply multiple layers that will mechanically bond to ensure long-lasting and beautiful results before adding a durable, non-slip, and easy-to-maintain top coat.
Learn More About Your Local Floor Coating Contractor
Are you ready to get started with your own concrete floor coating? If so, GatorGuard is the floor coating contractor you can turn to. Call us today to learn more about our products, and we can schedule a consultation in your Allen Park, MI, home.