Trustworthy Floor Coating Contractor Serving Homeowners in Ann Arbor, MI, and Neighboring Communities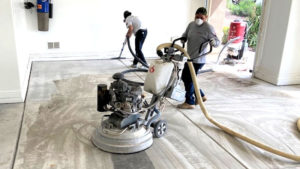 If you're in the market for a concrete floor coating, then look no further. GatorGuard is Ann Arbor, Michigan's go-to floor coating contractor, and we only install the best concrete floor coatings and sealing on the market.
We offer homeowners three flooring systems:
Our full-broadcast and Liquid Art epoxy floor coatings are fantastic choices for garages, basements, laundry rooms, entertainment spaces, and other interior rooms, while our concrete sealing is great for driveways, pool decks, patios, and outdoor areas.
GatorGuard is the Concrete Floor Coating Company You Need
All the floor coating systems offered by GatorGuard are resistant to scratches, cracks, stains, and fading. They will enhance the look of your concrete floors, and add an element of beauty to whichever space they are installed in. Additionally, they are low maintenance and easy to clean.
We also install a water mitigation barrier—GatorShield—along with all our epoxy floor coating systems. This helps to protect your concrete floors against the negative effects of hydrostatic pressure.
Additional Services
GatorGuard is a family-owned and -operated floor coating contractor, and we believe in putting you first. Our team of manufacturer-trained experts install durable, beautiful, long-lasting floor systems efficiently and flawlessly. And the best part? We offer additional services—such as our Move In, Move Out program.
If you opt for this service, we'll remove all the furniture, décor, and other items from your space before we begin working on your new floors. Then, after the installation is complete, we will put everything back where we found it.
Next Steps
Are you ready to reap the benefits of a concrete epoxy floor coating or concrete sealing installation? If so, contact your neighborhood floor coating contractor, GatorGuard, today. Our team will be happy to go over our limited lifetime warranty and any other questions you may have before we get started beautifying your Ann Arbor, MI home's floors.