Beautify the Concrete Floors in Your Carmel, IN, Home With Liquid Art Metallic Epoxy Floor Coating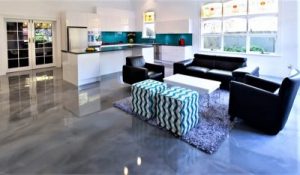 If you are unsure how to spruce up a concrete floor in your Carmel, Indiana, home, look no further than GatorGuard's Liquid Art metallic epoxy floor coating. It's beautiful, vibrant, unique, and incredibly durable. Plus, if you don't want the hassle of moving all your belongings out of the way, we offer a Move Out, Move In service so you can be totally hands-off. We'll carefully move all your belongings, safely store them while we complete your epoxy floor coating, and then return everything exactly how it was afterwards.
Benefits of Liquid Art Metallic Epoxy Floor Coating
There are several unique advantages of our Liquid Art metallic epoxy floor coating. It is:
Low maintenance
Very easy to clean
Impermeable to water
Highly resistant to cracks, stains, scuffs, and damage from dropped items
Protected from delamination and peeling by our GatorShield moisture mitigation barrier
Beautiful and glossy with a completely unique swirled pattern
Available in a wide array of colors, from neutrals like gray and charcoal to bold statement colors like crimson and sapphire
Our GatorGuard Process
GatorGuard is a family-owned and -operated business, and we treat our customers like family as well. To start the concrete floor coating process, contact us today and we'll send a member of our team to your Carmel, IN, home to do a consultation. We'll show you our Liquid Art metallic epoxy floor coating options on an iPad, take measurements, and assess whether this is the best floor solution for you. Then we'll complete the paperwork digitally and schedule your floor coating installation.
The installation takes a few days—unlike some other floor coating contractors, we don't rush through the job just to be able to say that we can complete it in one day. By taking our time and letting each layer cure completely, we ensure a far superior finished product that will last a lifetime.