The Trusted Floor Coating Contractor Serving Homeowners in Carmel, IN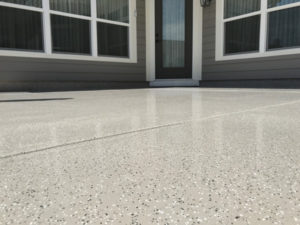 Though durable, concrete flooring can be a headache to maintain. After years of exposure to foot and vehicle traffic, it can easily become scuffed, cracked, and stained. Plus, it doesn't exactly provide an aesthetic boost to the spaces it adorns. As a concrete floor coating contractor with a reputation for excellence among homeowners in Carmel, Indiana, GatorGuard can help you protect and beautify those floors for a lifetime. We provide:
Ultra-durable full broadcast coatings that are backed by a limited lifetime warranty and are available in many different styles.
Liquid Art metallic floor coatings—ideal for indoor spaces, such as basements—that have a high-gloss finish to transform a room into a work of art
Concrete sealing to protect outdoor spaces, such as patios and pool decks, from weathering
Benefits of Concrete Floor Coating
GatorGuard installs superior concrete floor coating systems to ensure you enjoy a lifetime of benefits. For example, our epoxy coatings provide exceptional protection against abrasion for salt and ice-melting chemicals that can result in costly damage over the long run, making it perfect for garages. In addition to protecting your concrete floors from damage and making them a breeze to maintain, your flooring will have a beautiful finish to enhance your home's décor. Indeed, there are so many styles, patterns, colors, and textures to choose from, that it'll be easy to create a look that you love. What's more, because they have non-slip surfaces and high reflectivity, our epoxy coatings are perfect for improving safety in any space.
Another way that GatorGuard stands out from other floor coating contractors is with our installations. We allow each layer to properly cure and mechanically bond to concrete to achieve exceptional durability. And, we install GatorShield—a moisture mitigation barrier that prevents the damaging effects of hydrostatic pressure.
Learn More
Contact GatorGuard today for more information about what makes us the most trusted floor coating contractor serving Carmel, IN. When you do, remember to ask about our optional Move Out, Move IN Program that can make your floor coating project as convenient as possible.