A Trusted Floor Coating Contractor Serving Clayton, MO, Homeowners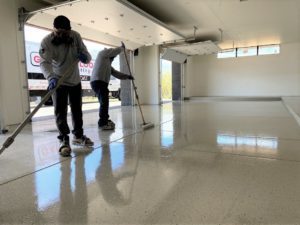 Bare concrete floors are prone to cracking, scuffing, and staining—and they generally don't feel warm or welcoming. Fortunately, GatorGuard has the perfect solution: epoxy floor coating. Our floor coatings are beautiful as well as highly durable and can completely transform your home, inside and out. As a trusted floor coating contractor serving the Clayton, Missouri, area, we offer three different types of epoxy floor coatings:
Full-Broadcast Epoxy Floor Coating
Our full-broadcast floor coating is our most durable option, and it's backed by a lifetime warranty. We offer PVA and mica systems, which are both available in a dazzling array of colors, textures, and styles. This type of coating can be used in garages or other high-traffic areas within your home such as basements or laundry rooms.
Liquid Art Metallic Epoxy Floor Coating
Transform your concrete floor into a masterpiece with our Liquid Art metallic epoxy floor coating. This option features a swirling metallic pattern finished with a high-gloss clear coat. We offer a variety of colors, including subtle neutrals and vibrant, bold hues. This floor coating should not be parked on, so we don't recommend it for garage floors, but it's a beautiful choice for basements, kitchens, entryways, laundry rooms, and other indoor surfaces.
Clear Concrete Sealant
We also offer a clear concrete sealant that's designed to be used on outdoor surfaces like pool decks, driveways, walkways, and so forth. It will prevent your concrete surfaces from getting stained—you can simply rinse the coating clean.
No matter which type of epoxy coating you choose, you can rest assured that it will remain beautiful for years to come. We set ourselves apart from other floor coating contractors by installing our GatorShield moisture mitigation barrier with every floor coating. This prevents your floor from peeling or delaminating from hydrostatic pressure.
Contact GatorGuard Today
To learn more about the premier floor coating contractor serving Clayton homeowners, contact GatorGuard today.