Floor Coating Contractor Installing Durable Floor Coatings Inside and Outside Covington, OH, Homes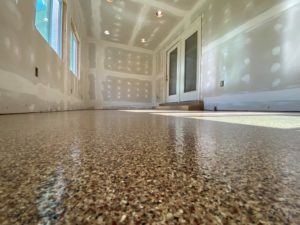 Are you in search of durable epoxy floor coatings for the indoor and outdoor areas of your Covington, Ohio, home? If so, GatorGuard is the floor coating contractor you can trust to get the job done right. Our full-time, manufacturer-trained installers have many years of experience installing our high-quality floor coatings in homes throughout the area, and we would love to add you to our growing list of satisfied customers!
Our epoxy floor coatings are high-quality and durable enough to withstand vehicle traffic. We offer three different options: full-broadcast epoxy floor coating, Liquid Art metallic epoxy floor coating, and outdoor concrete sealing. No matter whether you want to protect the concrete floors inside your home or outside your home, we have a solution for you.
Products that Bring Beauty and Functionality to the Table
If you want a floor coating that will both enhance the beauty of your floors and protect them from wear and tear, then choose one of our epoxy floor coatings! Our full-broadcast coating is a non-slip and low-maintenance choice for garages, basements, and other indoor areas. It will also protect your floor from scratches, cracks, and stains and comes in an assortment of colors.
If you're looking for a floor coating contractor that offers an epoxy floor paint with a bit more pizazz, then look no further than GatorGuard's Liquid Art metallic coating. This coating comes in a range of vivid colors, and it features swirling patterns that resemble art rather than flooring. This coating is best suited for basements, laundry rooms, and other indoor entertainment spaces.
We also offer concrete sealing for outdoor spaces, including patios, porches, driveways, and more. Our floor sealing is extremely durable and will protect your concrete floors against weathering and ice-melting chemicals.
Call Your Local Concrete Floor Coating Contractor Today
Are you ready to hire GatorGuard as your floor coating contractor? Contact us today, and we'll be happy to give you more information about our offerings and schedule an appointment. We look forward to protecting the concrete floors in your Covington, OH, home!