Beautiful Liquid Art Metallic Epoxy Floor Coating for Your Dearborn, MI, Home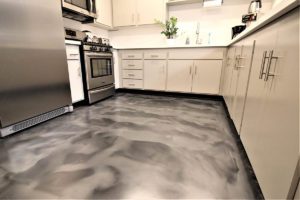 Plain concrete floors can be drab, damp, and show damage—but covering them with carpet or wood comes with its own set of challenges. Carpet requires regular cleaning and wood floors can get scratched or dinged up quickly. Fortunately, we at GatorGuard have a better option for you: our Liquid Art metallic epoxy floor coating. It's gorgeous, unique, and extremely durable, which makes it perfect for upgrading the concrete floors in your Dearborn, Michigan, home.
Completely Transform a Room With Epoxy Floor Coating
Our Liquid Art epoxy floor coating is available in a stunning array of metallic colors, including bold tones like sapphire, bronze, and crimson as well as beautiful neutrals like gray and charcoal. The installation process creates a swirled pattern in the epoxy that is completely unique to your space.
Liquid Art metallic epoxy floor coating is not only visually stunning, but it's also:
Very easy to clean
Impermeable to moisture
Resistant to scuffs, cracks, and stains
Why Choose GatorGuard?
At GatorGuard, we know that coating your floors represents a significant commitment. That's why we never use subcontractors—all our installation technicians are our full-time, manufacturer-trained employees. We also use a propriety GatorShield moisture mitigation barrier that prevents peeling and delamination, which is something no other floor coating contractor offers. Finally, we protect our concrete floor coatings with premium warranties that cover both the product as well as reapplication.
Contact us at GatorGuard today to learn more about Liquid Art metallic epoxy floor coating or to schedule a consultation at your Dearborn, MI, home.