The Premier Floor Coating Contractor Serving Homeowners in Dearborn, MI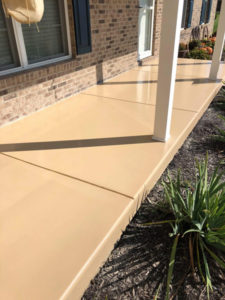 Is the concrete floor in your garage coated in scuffs, stains, chips, and cracks from years of vehicle traffic? Are you looking for a way to make an interior room with a bare concrete floor in your home, such as a basement or laundry room, more presentable and livable? As Dearborn, Michigan's trusted floor coating contractor, GatorGuard has the solution. We have built a reputation for:
Providing Top-of-the-Line Floor Coatings
GatorGuard is among the most experienced floor coating contractors in the area and has a proven track record for installing exceptional coatings that look great and perform beautifully for years. Our solutions include:
Full Broadcast Concrete Coating
Our most durable option is backed by a limited lifetime warranty and is available in an incredible array of colors, patterns, and textures to suit your needs. It's perfect for spaces, such as garages, where floors get a lot of punishment. However, homeowners can enjoy the beauty and protection of full broadcast coatings in any room of the house with a concrete floor.
Liquid Art Metallic Concrete Coating
This epoxy floor coating system is known as liquid art, and it's easy to see why. With a high-gloss, metallic finish, this concrete coating system can transform an otherwise bland room into a design centerpiece in your home.
Concrete Sealing
Outdoor concrete, such as patios and pool decks, is exposed to harsh elements all year and is susceptible to weathering. Instead of having to clean and seal it yourself each year, you can rely on GatorGuard to apply long-lasting concrete sealing to protect and beautify these spaces for years to come.
Expert Installations
As your concrete floor coating contractor, GatorGuard will take the time to apply our products the right way. Rather than do hasty one-day installations that result in weak finishes, we allow each layer the time to mechanically bond to concrete. Additionally, we always install a moisture mitigation barrier to stop hydrostatic pressure from causing common problems, such as peeling and delamination.
For more information on what makes GatorGuard the clear choice among concrete floor coating contractors serving Dearborn, MI, contact us today.