The Epoxy Floor Coating Contractor Trusted by Dublin, OH, Residents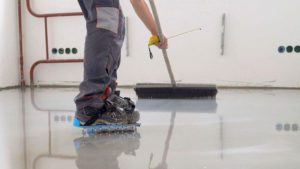 GatorGuard's epoxy floor coatings are an excellent way to upgrade your concrete floors—they can hide existing imperfections, protect your floors from future damage, offer safety benefits, and beautify both indoor and outdoor spaces. We've earned a reputation as the premier floor coating contractor serving the Dublin, Ohio, area, and we can't wait to transform your concrete floors and surfaces.
Beauty Meets Durability in Our Floor Coatings
We offer three different categories of concrete floor coatings:
Concrete sealant – This clear coating is perfect for outdoor spaces such as driveways, pool decks, walkways, and patios. It won't become stained like bare concrete and is easy to rinse clean.
Liquid Art metallic epoxy floor coating – We'll create a unique art piece on your floor that features swirling patterns in a variety of metallic colors, topped with a smooth, high-gloss finish. This floor coating shouldn't be parked on, so it's not recommended for garage floors. However, it's a showstopping choice for kitchens, entryways, basements, laundry rooms, and other interior spaces.
Full broadcast floor coatings – These are our most durable floor coatings that we recommend for high-traffic interior spaces as well as garages. They are available in a wide variety of colors and styles and can be finished with a non-slip texture to improve safety.
Our floor coatings are highly resistant to wear, damage from dropped objects, and chemical abrasion (from ice-melting chemicals, for instance). They are low maintenance and backed by strong warranties. In fact, our full broadcast floor coating is backed by a lifetime warranty against peeling and delamination!
Unlike other floor coating contractors, we install our GatorShield moisture mitigation barrier with every coating to help prevent damage from hydrostatic pressure. We also offer a Move Out, Move In service where we'll handle the moving and storage of your furniture and belongings.
Contact Us Today
To learn more about our floor coating contractor services, contact GatorGuard today. We'll be happy to schedule a consultation at your Dublin, OH, home.