The Leading Epoxy Floor Coating Contractor Serving Farmington Hills, MI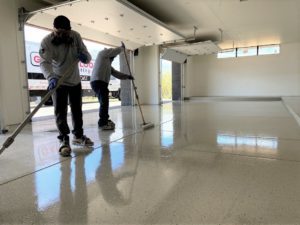 Concrete floors can quickly stain, wear, crack, and generally become eyesores. Fortunately, GatorGuard can transform your indoor and outdoor concrete surfaces with our epoxy floor coatings. We've made a name for ourselves in Farmington Hills, Michigan, and throughout the Midwest as the premier concrete floor coating contractor, thanks to our high-quality products, top-notch warranties, and stellar customer service. We offer three types of floor coating solutions:
Full Broadcast Floor Coatings
Our full-broadcast floor coatings are incredibly durable and are backed by our industry-leading limited lifetime warranty. This type of floor coating is available in a wide variety of color and style options, and the non-slip texture can help prevent falls. Our full broadcast coating is a great choice for garages as well as basements, rec rooms, and other high-traffic areas. It's highly resistant to wear, damage from dropped objects, and chemical abrasion from salt or ice-melting chemicals.
Liquid Art Metallic Floor Coatings
As the name suggests, this type of floor coating creates a unique work of art on your concrete floor. It features a swirling design of metallic colors that range from neutral tones to brilliant colors like crimson and sapphire. We top this coating with a smooth, high-gloss finish that reflects light and helps illuminate dark areas. Our Liquid Art floor coating should not be parked or driven on, but it's an ideal option for basements, laundry rooms, entryways, or kitchens.
Concrete Sealing
Our clear concrete sealant is perfect for outdoor concrete surfaces like driveways, patios, and pool decks. It's much easier to clean than bare concrete and provides protection against UV rays, chemicals, and more.
We install our GatorShield moisture mitigation barrier with every floor coating, which will help prevent the peeling and delamination that can otherwise occur as a result of hydrostatic pressure buildup.
Contact Us Today
Contact GatorGuard today to learn more about the premier floor coating contractor serving Farmington Hills, MI. We'll be more than happy to answer any questions and schedule an in-home consultation to go over your options.