Stunning, Durable Liquid Art Metallic Epoxy Floor Coating for Your Fishers, IN, Home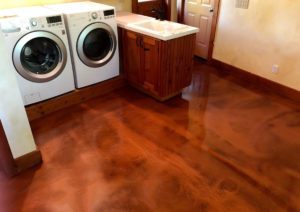 If you're searching for a beautiful, unique, and extremely durable floor coating for your Fishers, Indiana, home, look no further than GatorGuard's Liquid Art metallic epoxy floor coating. It's ideal for high-traffic spaces like kitchens and entryways as well as below-ground areas that tend to be damp like basements and laundry rooms. Here at GatorGuard, we'll never cut corners just to say that we can complete your floor coating in a single day—perfection can't be rushed so we take the time to ensure that your epoxy floor coating goes on beautifully and cures completely so it lasts a lifetime.
Why Choose Liquid Art Metallic Epoxy Floor Coating?
There are several unique advantages to Liquid Art metallic epoxy floor coating, including its:
High resistance to stains, cracks, and scuffs
Easy-to-clean, low-maintenance nature
Availability in a wide variety of vibrant metallic colors
Beautiful high gloss surface and truly one-of-a-kind swirling pattern
We install this concrete floor coating with our proprietary GatorShield technology, which is an impermeable water mitigation barrier that prevents the delamination and peeling that can otherwise result from hydrostatic pressure.
Get Started Today
At GatorGuard, our Liquid Art metallic epoxy floor coating installation team is made up of full-time, manufacturer-trained employees—never subcontractors. We also back our epoxy floor coating with premium warranties that cover the product itself as well as any necessary reapplications. Finally, we know that it can be a big inconvenience to move all your furniture and belongings out of the way, so we offer our Move Out, Move In program to take this burden off your shoulders. Contact us today to get started with a floor upgrade for your Fishers, IN, home.