Upgrade Your Greenwood, IN, Home With a Beautiful Basement Floor Coating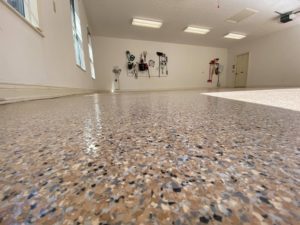 Basement flooring can be tricky, since they can be prone to dampness and are often high-traffic areas. For example, many people use their basements as workout spaces or entertainment rooms. Carpet can show wear and hold a musty odor, and wood can warp from moisture and show dings and scratches. Fortunately, those aren't the only flooring options. At GatorGuard, we offer premium basement floor coatings for your Greenwood, Indiana, home that will look beautiful and last a lifetime.
Our Epoxy Basement Floor Coating Options
We offer both full-broadcast epoxy basement floors as well as Liquid Art metallic epoxy floor coatings:
Full-Broadcast Epoxy Floor Coatings
Our full-broadcast epoxy basement flooring is our most durable option, and it is backed by a lifetime warranty. This type of basement floor coating is:
Extremely resistant to damage from foot traffic and dropped objects
Stain, chip, and crack resistant
Uniquely textured with a non-slip surface
Reflective, which can help provide better illumination in darker basement spaces
Available in many different styles and colors to perfectly complement your home's style
Liquid Art Metallic Epoxy Floor Coatings
Our durable Liquid Art metallic epoxy basement floor coating creates gorgeous, unique, swirled patterns with a high-gloss finish. It's available in many different colors, including both bold tones and subtle neutrals.
Get Started Today
All our basement floor coatings are installed with our GatorShield moisture mitigation barrier to prevent delamination and peeling that can result from hydrostatic pressure. We also take the time to let each layer of your floor cure completely before moving on to the next one, which helps ensure that your floor coating will last a lifetime. Contact us today to get started with a consultation at your Greenwood, IN, home.