The Floor Coating Contractor Relied on By Greenwood, IN, Residents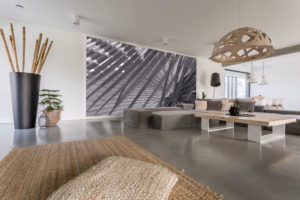 Do you want to spruce up the appearance of the concrete floors inside and outside your home without breaking the bank? GatorGuard can help you with that. We are a floor coating contractor that serves homeowners throughout Greenwood, Indiana, and we install high-quality and stunning epoxy floor paint at residential properties. We are trusted by homeowners throughout the state, and we are expanding rapidly due to our value-added products and services. All of our technicians are manufacturer-trained, full-time employees with years of experience, so you can rest assured that when you partner with us, you will receive an incredible product installed by experts.
Floor Coatings for Inside & Outside Your Home
No matter where your concrete floors are located at your home, we have the perfect epoxy floor coating solution. We offer three different types of floor coatings:
Full-broadcast epoxy floor coating – This epoxy floor paint is ideal for garages and basements, and it is highly reflective, non-slip, and virtually maintenance-free.
Liquid Art metallic epoxy floor coating – If you want a floor coating that will turn your plain concrete into a statement piece, then our Liquid Art coating is perfect for you. It features vibrant swirling patterns and works great in basements, kitchens, entryways, and more.
Concrete sealing – If you're interested in investing in a floor coating for the concrete floors outside of your home, our concrete sealing is the best option for you.
Our offerings are all unique, and they will keep your concrete floors damage-free and safe from regular foot traffic and general wear and tear. And since we are a floor coating contractor that aims to protect your investment, we install a moisture mitigation barrier—GatorShield—alongside all our floor coatings to safeguard your floors against the negative effects of hydrostatic pressure.
Your Local Concrete Floor Coating Company
Contact GatorGuard today to learn more about why we're the most trusted floor coating contractor in the Greenwood, IN, area. We look forward to protecting and beautifying your home's concrete floors.