Beautiful Basement Floor Coatings for Your Hamilton, OH, Home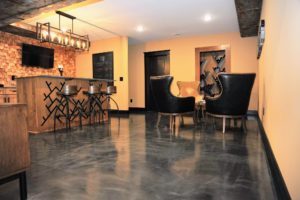 Looking for a basement floor solution that will last a lifetime in your Hamilton, Ohio, home? Look no further than a basement floor coating from GatorGuard. We offer a wide variety of styles, colors, and textures of epoxy basement floors, and our professional installation service ensures your new floor will be durable and gorgeous for years to come.
Advantages of Epoxy Basement Floors
Our basement floor coatings offer several unique advantages over other flooring options like carpet and wood. They are:
Exceptionally durable – they won't get damaged from foot traffic or dropped objects, and won't scratch, stain, chip, crack, or scuff
Easy to clean
Resistant to damage from salt and ice-melting chemicals that may get tracked into your basement in the wintertime
Available in a huge array of beautiful colors, ranging from luxurious neutrals to bold statement hues
Available in either textured non-slip or smooth high-gloss finishes
Impermeable to moisture to keep the dampness out of your basement
We offer both full-broadcast floor coatings and Liquid Art metallic epoxy basement floor coatings, so you can choose the exact look that you want for your basement.
Why Choose GatorGuard?
At GatorGuard, we don't rush perfection. Some other floor coating contractors might offer one-day basement floor coating installations, but we take a few days to ensure that each layer cures completely before we move onto the next one. This ensures a flawless final product. We also always install our GatorShield moisture mitigation barrier to protect against hydrostatic pressure, which can cause peeling and delamination. Plus, we offer a Move Out, Move In service to take the prep work off your hands. We'll pack up all your furniture and other belongings, securely store them, and then replace everything once your floor is finished.
Contact us today to learn more about our basement floor coating options or to schedule a consultation at your Hamilton, OH, home.