Is It Time for You to Hire a Floor Coating Contractor for the Concrete Floors at Your Hamilton, OH, Home?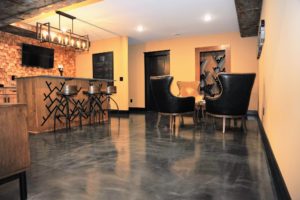 There are many signs you should keep an eye out for that may signal it is time for you to invest in a new floor coating for the concrete floors inside and outside your Hamilton, Ohio, home. While concrete is a common material for driveways, basements, garages, and more, it is not indestructible. When the time comes for you to strengthen and beautify your concrete floors, turn to the floor coating contractor that locals trust: GatorGuard. We have many years of experience installing epoxy floor paint on residential floors, and we would love to add you to our growing list of satisfied customers.
Signs You Need a Concrete Floor Coating Service
It may be obvious that you need a concrete floor coating service, but sometimes it isn't. You may think a few stray cracks and chips don't require immediate attention, but that isn't always the case.
Concrete floors take quite a beating—particularly your driveway and your garage. Vehicle traffic can cause unsightly stains and damage to concrete, which can lead you to contact your local floor coating contractor. When looking at the concrete floor inside and outside your home, keep an eye out for:
If you already have a floor coating on your floors but you notice the above issues in conjunction with bubbling and peeling, you should also consider reaching out to a floor coating contractor to resolve the issue.
Epoxy Floor Paints for Interior and Exterior Flooring Projects
GatorGuard installs three different epoxy floor coatings:
The Concrete Floor Coating Contractor Serving Hamilton, OH
Don't wait any longer to invest in an epoxy floor coating service for the concrete floors inside and outside your home. Call GatorGuard today to learn more about why we're the floor coating contractor that Hamilton, OH, residents trust.