Floor Coating Contractors Providing Value-Driven Solutions for Homeowners in Jeffersontown, KY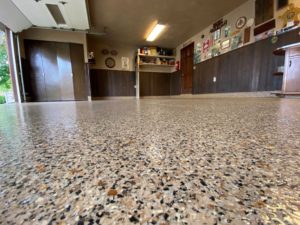 Does your garage, basement, laundry room, or patio feature bare concrete that's covered in unsightly cracks, chips, and stains? GatorGuard offers premium solutions to protect and beautify that concrete for years to come. As a family-owned, local floor coating contractor, we provide:
Top-of-the-Line Concrete Coatings
GatorGuard is committed to providing value beyond what other floor coating contractors serving Jeffersontown, Kentucky, can offer. To that end, we don't offer one-size-fits all solutions. Rather, we specialize in the installation of a wide array of high-performance concrete coatings, including:
Full broadcast epoxy coatings – Our most recommended coating system provides unparalleled durability and is available in many different styles and colors.
Liquid Art metallic floor coatings – Perfect for transforming interior spaces into unique works of art, our Liquid Art metallic floor coatings feature a high-gloss finish with a metallic effect.
Concrete sealing – Ideal for patios, pool decks, driveways, and other outdoor spaces, our sealing system provides decades of protection against weathering and deterioration due to exposure to salt and ice-melting chemicals.
Installation From Manufacturer-Trained Specialists
Getting lifetime performance from your epoxy floor coating requires that it be installed with the utmost skill and precision. Unlike other floor coating contractors, GatorGuard has a full-time team of experts who utilize a multi-day process so that epoxy has time to mechanically bond to concrete. We also include GatorShield—a moisture mitigation barrier—with each floor coating to stop hydrostatic pressure from causing delamination.
Learn More
Schedule your free consultation with GatorGuard at your home in Jeffersontown, KY, today to learn more about what makes us the most trusted local floor coating contractor. Remember to also ask about our Move Out, Move In Program, which can make the installation process as simple and stress-free as possible.