The Premier Floor Coating Contractor Serving Ladue, MO, Homeowners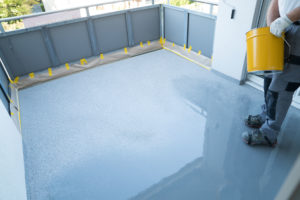 Are your bare concrete floors and exterior surfaces looking worse for wear? If so, GatorGuard is here to help. We offer a variety of epoxy floor coatings for Ladue, Missouri, homeowners. As the area's most trusted floor coating contractor, we have the necessary skill to install a beautiful, highly durable coating that will hide existing damage and protect your concrete floors from cracks, chips, and stains
Our Epoxy Floor Coating Options
We install three different categories of floor coatings to meet a wide variety of style preferences and use cases:
Full Broadcast Floor Coatings
Our full broadcast floor coatings are our most durable option—so durable, in fact, that they are guaranteed to last a lifetime. We have both PVA and mica systems available in myriad colors, textures, and styles. This heavy-duty coating is perfect for high-traffic areas like garages and basements. It has a nonslip surface that is highly resistant to damage from foot and vehicle traffic, dropped objects, and chemical abrasion from salt or deicing chemicals that get tracked onto the floor.
Liquid Art Metallic Epoxy Floor Coatings
We also offer Liquid Art metallic epoxy floor coatings if you're looking for an artistic, showstopping option. These feature a completely unique swirled metallic pattern in a variety of colors with a high-gloss finish. This floor coating is not designed to be parked on, but it's a gorgeous option for kitchens, entryways, rec rooms, basements, and laundry rooms.
Clear Concrete Sealant
Finally, we offer a durable clear concrete sealant for exterior surfaces like driveways, patios, porches, and pool decks.
What Sets GatorGuard Apart?
As a full-scale floor coating contractor, we offer the highest-quality products in conjunction with industry-leading warranties and expert installation. We also install our GatorShield moisture mitigation barrier with every floor coating, which helps prevent delamination. Plus, we offer our White Glove Service so you can be completely hands-off during the whole process.
To learn more about the leading floor coating contractor serving Ladue homeowners, contact GatorGuard today.