A Floor Coating Contractor Helping Homeowners With Their Concrete Flooring Needs in Lawrence, IN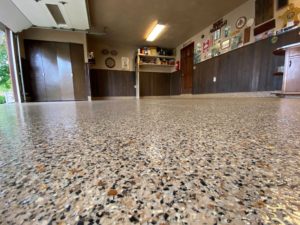 Concrete is a popular flooring material for many areas of the home, including patios, walkways, garages, and basements. But have you ever seen concrete that is completely damage-free? Your answer is probably "no." That's where the services offered by GatorGuard come into play. We are a local floor coating contractor serving the Lawrence, Indiana, area, and we've been installing protective and durable floor coatings on residential concrete floors since we opened our doors in 2017.
Epoxy Floor Paints for Indoor and Outdoor Projects
Whether you need a concrete floor coating for the floors surrounding your home or the floors inside of it, GatorGuard is the floor coating contractor with a solution for you. We even install a moisture mitigation barrier named GatorShield along with all our floor coatings to keep your floors safe from the negative effects of hydrostatic pressure. We offer three types of floor coatings that work great for different areas of the home.
Full-Broadcast Epoxy Floor Coating
Our full-broadcast floor coating is a very popular choice for basements and garages. It is extremely durable and will protect your floors against heavy foot and vehicle traffic. Plus, it's low maintenance and resistant to cracking, chipping, and staining.
Liquid Art Metallic Epoxy Floor Coating
If you're looking for a floor coating for your basement or entertainment space, then there's no better choice than our Liquid Art floor coating. This coating comes in beautiful colors and features unique swirling patterns. It is also glossy, easy to keep clean, and resistant to damage.
Concrete Sealing
Not only are we a floor coating contractor that offers floor coatings for inside your home, but we also offer concrete sealing for the concrete floors outside your home. This option is fantastic for outdoor areas including patios, porches, driveways, pool decks, and more. It will protect your concrete floors against weathering, and it is resistant to commonly used outdoor chemicals.
Learn More About the Top Concrete Floor Coating Contractor in Your Area
Partnering with a professional floor coating contractor is the first step to making sure your flooring project is completed efficiently and correctly. Contact GatorGuard today to learn more about the products and services we offer to Lawrence, IN, homeowners.