Gorgeous Basement Floor Coatings for Livonia, MI, Homeowners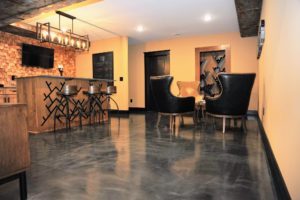 Are you looking to finally finish your basement or upgrade your existing concrete basement floor? GatorGuard has the perfect solution for your Livonia, Michigan, home: epoxy basement floor coatings. We offer a variety of different epoxy floor coatings to meet your needs and style preferences. Additionally, we have a convenient Move Out, Move In service available to handle moving and storing all your furniture and belongings while we work, then replacing everything afterwards.
Our Epoxy Basement Floor Offerings
Whether you plan to use your basement as a workout space, a recreation or entertainment room, or something else, we have the perfect basement floor coating for you.
Our full-broadcast floor coating is our most durable option, and it's backed by a lifetime warranty that covers both the product and the application. It's available in a wide variety of colors and textures and can dramatically improve the look of your basement as well as cover imperfections. It's exceptionally durable and resists damage from foot traffic, dropped objects, and more—it won't chip, scratch, peel, or stain.
We also offer Liquid Art metallic basement floor coating. This gorgeous epoxy flooring is available in a range of neutral and bold colors and has an easy-to-clean high-gloss finish. It features a beautiful swirl pattern that is completely unique to your space and highly durable.
Expert Installation by the GatorGuard Team
All GatorGuard basement floor coatings are installed by our full-time, manufacturer-trained employees—we never use subcontractors. We always include our GatorShield technology, which is a moisture mitigation barrier that protects against peeling and delamination. Contact us today to schedule a consultation in your Livonia, MI, home or to learn more about our epoxy basement floor options.