Don't Hesitate to Turn to the Floor Coating Contractor Serving Livonia, MI, Homeowners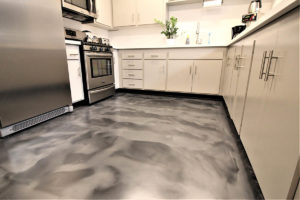 Have you started to notice unsightly stains and cracks on your concrete floors? This is a common issue with concrete, as water and oil can leave unwanted blemishes, and shrinkage can cause cracking. That's why so many Livonia, Michigan, homeowners turn to GatorGuard for concrete floor coatings. We are the area's No. 1 floor coating contractor, and we offer high-quality products and top-notch services to help enhance the appearance and functionality of your concrete floors.
Our Epoxy Floor Paints Can Transform Your Floors
You shouldn't settle for less-than-spectacular concrete floors. At GatorGuard, we install three epoxy floor paints that will elevate the curb appeal and appearance of your home:
Full-Broadcast Epoxy Floor Coating
Are you in search of a floor coating for your garage or basement? Our full-broadcast epoxy floor coating is the perfect solution for indoor areas that experience heavy foot traffic or vehicle traffic. It is resistant to scratching, chipping, and staining, and it will provide a non-slip surface for you to enjoy.
Liquid Art Metallic Epoxy Floor Coating
GatorGuard is a floor coating contractor with solutions for everyone—that's why we offer our one-of-a-kind Liquid Art metallic floor coating. This is ideal for homeowners who want vibrant and unique flooring that is sure to impress visitors. This is ideal for kitchens, laundry rooms, entryways, and basements.
Concrete Sealing
Do you want to upgrade the concrete floors outside of your home? We offer concrete sealing for outdoor flooring projects. Our concrete sealing will keep your driveway, patio, walkway, pool deck, or other outdoor space safe from the elements.
Contact Your Livonia, MI, Concrete Floor Coating Contractor
At GatorGuard, we want to make sure your investment is well protected. That's why we install GatorShield, a moisture mitigation barrier, alongside all of our floor coatings. This barrier will help keep your concrete floors safe against the negative effects of hydrostatic pressure.
To learn more about the products and services we offer at GatorGuard, don't hesitate to call our team today. We are your neighborhood floor coating contractor that is happy to help with all your floor coating needs.