Stunning Basement Floor Coating Options for Shelbyville, KY, Homeowners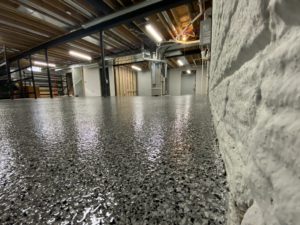 If you're looking to spruce up your concrete basement floor, look no further than GatorGuard's epoxy basement floor coating. We offer a variety of options to meet your style preferences and functional needs. We are committed to providing an excellent customer experience and strive to make the process as easy as possible. This starts with a consultation with one of our pros at your Shelbyville, Kentucky, home to find the best basement floor coating for your specific requirements.
Why Choose Epoxy Basement Floor Coating?
Epoxy basement floor coating offers several benefits over other flooring options. It is:
Extremely durable
Damage resistant and won't show foot traffic wear, scratches, dings, or dents from dropped objects, cracks, or stains
Reflective, which helps brighten up dark basement spaces
Impermeable to moisture and water
We offer both full-broadcast basement floor coating as well as Liquid Art metallic epoxy floor coating. Our full-broadcast coating is our most durable option and is backed by an industry-leading lifetime warranty. It's available in a gorgeous array of colors and non-slip textures.
The Liquid Art epoxy basement floor coating is available in several stunning metallic shades, from neutral beige and gray to rich crimson and teal. It has a high-gloss finish and unique swirled pattern.
Our Expert Installation Process
At GatorGuard, we never use subcontractors—all our basement floor coating installers are our full-time, factory-trained employees. And unlike other floor coating contractors, we install every epoxy basement floor with our GatorShield moisture mitigation barrier to prevent the peeling and delamination that can otherwise occur from hydrostatic pressure. Contact us today to set up a consultation at your Shelbyville, KY, home or to learn more about our basement floor coating options.