Upgrade the Floors in Your St. Clair Shores, MI, Home With Liquid Art Metallic Epoxy Floor Coating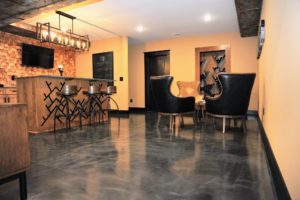 It can feel impossible finding an epoxy floor coating that's beautiful, durable, and impermeable to water. Fortunately, GatorGuard has just the solution for you—our Liquid Art metallic epoxy floor coating. We can beautify your St. Clair Shores, Michigan, home with stunning, completely unique floors.
An Exceptionally Durable & Attractive Concrete Floor Coating
Our Liquid Art metallic epoxy floor coating is highly resistant to wear from foot traffic, damage from dropped objects, scuffs, scratches, and stains. It's the perfect solution for:
Kitchens
Entryways
Laundry rooms
Recreation or entertainment rooms
Liquid Art epoxy floor coating is available in a variety of beautiful metallic shades, including crimson, denim, sapphire, and charcoal. The installation process creates a stunning swirled pattern that is as unique as your fingerprint—it can never be precisely replicated anywhere else.
Plus, we install it with our proprietary GatorShield water mitigation barrier, which prevents peeling and delamination that can be caused by hydrostatic pressure. With this technology, your Liquid Art metallic epoxy floor coating will be completely impermeable and last for a lifetime.
Contact GatorGuard Today
When you partner with GatorGuard, you can rest assured that only our full-time, manufacturer-trained employees will be handling your concrete floor coating installation—we never use subcontractors. As a family-owned business, we prioritize customer service and strive to make the flooring process as easy and seamless as possible. That's why we offer our Move Out, Move In service to take on the burden of moving all your furniture and belongings out of your space, storing them securely while we work, and then replacing everything exactly as it was afterwards.
Contact us today to learn more about upgrading your St. Clair Shores, MI, home with our Liquid Art metallic epoxy floor coating.