The Premier Floor Coating Contractor Serving Wentzville, MO, Homeowners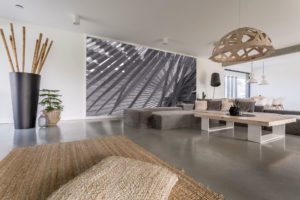 Epoxy floor coatings are a visually stunning way to protect and revitalize your concrete floors. However, it's important to find an experienced, trustworthy floor coating contractor to handle the job to ensure that your new epoxy floors turn out beautifully and last a lifetime. At GatorGuard, we are a family-owned company with extensive experience and a reputation for excellence. We are proud to offer our top-notch floor coating services to Wentzville, Missouri, homeowners.
Our Concrete Floor Coating Options
We offer a variety of floor coating solutions to meet your needs and budget. These options include:
Concrete Sealer
This clear liquid concrete sealer is ideal for outdoor spaces such as patios, driveways, pool decks, and walkways. It provides strong protection against the elements as well as corrosive substances such as salt and other de-icing products. Our sealer is also exceptionally easy to keep clean—it won't stain like bare concrete.
Liquid Art Metallic Floor Coatings
We can turn your concrete floors into works of art with this unique coating system. It creates a one-of-a-kind swirled pattern and has a smooth, high-gloss finish. We offer a variety of colors, including gorgeous neutral tones as well as bold statement hues. This epoxy floor coating is not designed to be parked on, so it's best suited for basements, laundry rooms, kitchens, and other indoor spaces.
Full Broadcast Floor Coatings
These are our most durable floor coatings, and they are backed by an unbeatable limited lifetime warranty. You can select from an array of attractive colors and styles and enjoy safety-enhancing features like a non-slip texture and a reflective surface that helps illuminate dark spaces. This type of floor coating is perfect for garages and other high-traffic indoor areas.
All types of floor coatings are installed with GatorShield, which is our moisture mitigation barrier. This helps protect against the negative effects of hydrostatic pressure, such as peeling and delamination.
Contact Us Today
To learn more about the premier floor coating contractor serving Wentzville, MO, contact GatorGuard today.