Durable Concrete Patio Sealing for Homes in and Around Westfield, IN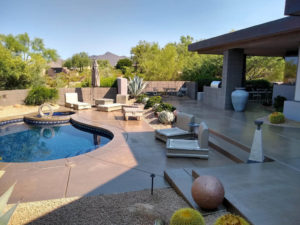 Industrial-grade concrete patio sealing can work wonders on the floors outside your home. Concrete easily cracks, chips, and stains when exposed to the elements and constant foot traffic, but with a patio floor coating from GatorGuard, those issues will be a thing of the past.
As the Westfield, Indiana, area's premier floor coating contractor, we proudly help homeowners enhance the concrete floors inside and outside their homes. Our concrete patio sealing is a great choice for those who want a low-maintenance and hassle-free floor coating that will protect their floors for years to come. Our concrete sealer mitigates moisture and blocks the penetration of stains, oil, and other contaminants—as well as offers you a slew of other benefits.
Why Choose Our Concrete Patio Sealer?
The concrete patio sealing product we install at GatorGuard is manufactured to be:
Molecularly bonded
UV stable
Calcium-chloride resistant
Chemically resistant
Stain-, crack-, and chip-resistant
Easy to clean
Eco-friendly
Additionally, our concrete patio sealing is just as beautiful as it is functional. It can enrich the color intensity of concrete, pavers, or exposed aggregate. And to put the cherry on top, we install our moisture mitigation barrier, GatorShield, with all our floor coatings to help protect your floors against the negative impact of hydrostatic pressure.
Let's Get Started
GatorGuard is a trusted floor coating company serving homeowners throughout Westfield, IN. We have earned an A+ rating with the Better Business Bureau thanks to our stellar products and services, and with our top-of-the-line floor coatings, the concrete floors inside and outside your home will be well protected.
For more information about our concrete patio sealing, contact us today! We look forward to assisting you.