Floor Coating Contractor with Flooring Solutions for Westfield, IN, Homes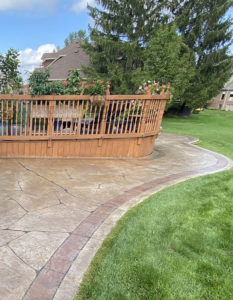 Do the concrete floors inside or outside your home need some revamping? GatorGuard is the premier floor coating contractor in the Westfield, Indiana, area, and we can help! We provide premium indoor and outdoor floor coatings and installation services to homeowners who want to upgrade the concrete floors in their garages, basements, driveways, and other spaces.
GatorGuard's floor coatings and sealing products are designed to protect your floors against cracks, stains, fading, foot and vehicle traffic, and more! We also carry countless colors, designs, and styles to choose from, so you can create the perfect floor for any area of your home.
Our Floor Coating Systems
GatorGuard offers three flooring systems: full-broadcast epoxy floor coating, Liquid Art metallic epoxy floor coating, and concrete sealing. Each is best suited for certain spaces inside and outside your home, and we are the concrete floor coating company who can help you decide on the perfect option for your space.
Indoor Floor Coatings
GatorGuard's full-broadcast floor coating is a fantastic choice for concrete floors in your garage, laundry room, basement, and other indoor areas. It is incredibly durable, resistant to staining, scratching, and cracking, and long lasting. You can choose from a host of different colors and styles, and to put the icing on the cake, this epoxy floor coating is covered by a limited lifetime warranty. We want to make sure you can rest easy knowing we have your back.
Our Liquid Art floor coating is a one-of-a-kind epoxy coating system designed to impress. This high-gloss coating has all the advantages of our full-broadcast system while also being a work of art. It comes in a variety of vibrant colors and features a swirling pattern that is unique to your home and can never be duplicated. Our Liquid Art floor coating is a great option for entertainment rooms, basements, laundry rooms, and other interior spaces.
Outdoor Floor Sealing
The concrete sealing we offer at GatorGuard not only beautifies your floors but also protects them. It is an ideal solution for driveways, patios, pool decks, porches, and other outdoor areas. This sealing requires little maintenance, and it makes your concrete floors impermeable to moisture and resistant to cracking and staining.
The Concrete Floor Coating Company You Can Count On
GatorGuard is your friendly neighborhood floor coating contractor with solutions for your ailing concrete floors. Contact us today to learn more. Our staff is more than happy to walk you through our floor coating installation process and limited lifetime warranty.