High-Performance Basement Floor Coatings for Zionsville, IN, Homeowners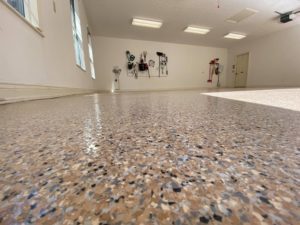 Bare concrete floors can ruin the aesthetic of your basement, but carpet and wood aren't necessarily good alternatives because they are prone to damage from dampness and easily show wear and tear. GatorGuard is pleased to present another option for Zionsville, Indiana, homeowners: our epoxy basement floor coatings.
Why Choose Epoxy Basement Floor Coating?
At GatorGuard, we offer full broadcast basement floor coatings as well as Liquid Art metallic coatings. Both types of epoxy concrete floor coatings offer a plethora of benefits, including:
Durability
Our floor coatings are resistant to wear from heavy traffic, corrosion from salt or other ice-melting chemicals that may get tracked into the basement, and damage from dropped items. Our full broadcast floor coating is even backed by a limited lifetime warranty for ultimate peace of mind about your investment.
Water Resistance
Due to being either partially or completely underground, basements tend to be damp. While this can be bad news for carpet or hardwood, our basement floor coatings are impervious to moisture. In fact, they can help control humidity and moisture problems in your basement, thanks to our GatorShield moisture mitigation barrier.
Attractiveness
Let's face it: Bare concrete floors just aren't aesthetically pleasing. With one of our basement floor coatings, you can choose between neutral or bold-colored metallic swirls under a glassy finish for a true statement piece, or you can opt for a more natural look and a textured, non-slip finish. No matter what style and color you choose, our floor coatings help hide imperfections on your basement floor and create a beautiful, uniform surface.
For a completely hands-off basement floor upgrade experience, we offer our Move Out, Move In service. We'll pack up everything in your basement, store it securely while we work, and then replace everything as it was once your basement floor coating is completely cured.
Get Started Today
Contact GatorGuard today to learn more about our basement floor coating options and to schedule a consultation at your Zionsville, IN, home.