Manufacturer-Trained Floor Coating Contractor Serving Homes in the Zionsville, IN, Area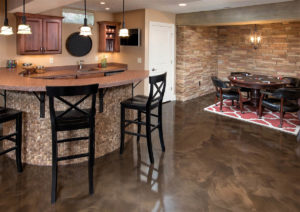 Concrete floors don't last forever. They crack, fade, stain, and crumble. So what's the best way to preserve your concrete floors, make them look good as new again, and have a durable long-lasting floor? By hiring your neighborhood floor coating contractor, GatorGuard.
Our Concrete Coating and Sealing Offerings
If you are looking to update your concrete floors, then we are the concrete floor coating company for you! We offer three different floor coating and sealing options:
Full-Broadcast Epoxy Floor Coating
GatorGuard's full-broadcast epoxy floor coatings are durable, long-lasting, and low maintenance. They are also non-slip, resistant to harsh chemicals, and will not chip, crack, stain, or fade. This concrete flooring system is best suited for:
It is also a great choice for any other interior space with concrete floors that experience heavy wear.
Liquid Art Metallic Epoxy Floor Coating
Our Liquid Art metallic epoxy floor coating was designed to impress. This concrete floor coating system has many of the advantages of our full-broadcast coating plus it comes in a range of high-gloss, vivid colors and features extraordinary swirling patterns. Each installation of this floor coating is one-of-a-kind and can never be duplicated. It is ideal for:
Basements
Recreation Areas
Laundry Rooms
This is also a fantastic option for any other rooms in your home that you wish to add a showstopping floor to.
Concrete Sealing
Concrete sealing is our outdoor flooring system for untreated concrete. It will protect your floors against harsh weather, chemicals, and moisture. It will also enhance and beautify the appearance of your floors. GatorGuard's concrete sealing is a great choice for:
Porches
Driveways
Pool Decks
Walkways
We're Indiana's Premier Choice Among Concrete Floor Coating Contractors
When you partner with GatorGuard, you can trust that our team has your back. The epoxy floor coatings installed by GatorGuard include GatorShield—a water mitigation barrier—built to defend your floors against the harsh impact of hydrostatic pressure. We also offer a limited lifetime warranty on certain floor coating systems.
If you're ready to take the next step, GatorGuard is ready to serve as your floor coating contractor. Give us a call, and we can start enhancing the concrete floors in your Zionsville, IN, home.