Floor Coating Contractors Providing Custom Epoxy Solutions for Homeowners in Delhi, OH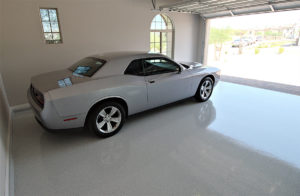 Drab concrete floors in your home in Delhi, Ohio, are more than just an eyesore—they are a time-consuming maintenance headache. Why waste your precious free time scrubbing stains and sealing cracks when you could get a beautiful epoxy concrete coating that protects your flooring and eliminates all that tedious maintenance? At GatorGuard, that's exactly what we provide. As your floor coating contractor, we can provide a value-driven solution for concrete in garages, basements, and laundry rooms, as well as exterior spaces such as patios, pool decks, and driveways.
A Detail-Oriented Floor Coating Process
Many floor coating contractors boast about their one-day process. What they don't tell you is that this doesn't provide epoxy the proper time to form a mechanical bond with concrete, resulting in a feeble finish. At GatorGuard, our multi-day process provides industry-leading durability that you can count on for a lifetime. Our manufacturer-trained installers also add GatorShield, our innovative moisture mitigation barrier, to protect against deterioration due to hydrostatic pressure.
The Best Epoxy Coatings on the Market
GatorGuard offers an array of concrete coating solutions to suit your unique application and budget. For example, our popular full broadcast coatings are backed by a lifetime warranty and feature a full layer of mica flakes and/or PVA chips which help bring a touch of nature into your home with beautiful stone or earth effects. We also provide attention-grabbing Liquid Art metallic coatings with a beautiful high-gloss finish. And for exterior concrete, our sealing product defends against weathering so you can break the never-ending cycle of scrubbing and resealing.
No matter which epoxy concrete coating system you choose, you can rely on it to provide lasting performance. Our floor coating solutions are designed to resist wear from foot and vehicle traffic, exposure to salt and ice-melting chemicals, and much more.
Schedule Your Free Consultation
Learn more about why GatorGuard is the floor coating contractor of choice serving homeowners in Delhi, OH, by contacting us today. When you do, remember to ask how we can make the installation process truly seamless with our Move Out, Move In Program.