The Leading Floor Coating Contractor Serving Huntington Woods, MI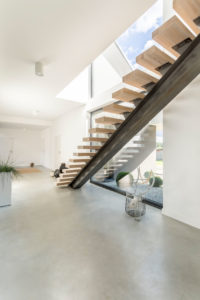 Bare concrete floors and exterior surfaces can quickly wear, stain, and crack, resulting in unsightly floors and high maintenance requirements. Fortunately, GatorGuard offers a solution for Huntington Woods, Michigan, homeowners: our epoxy concrete floor coatings. As the area's leading floor coating contractor, we offer premium coatings, flawless installation, best-in-class warranties, and friendly customer service.
Our Epoxy Floor Coating Solutions
Whether you have bare concrete basement floors, a stained concrete driveway, or a concrete paver patio or pool deck, GatorGuard has a solution. We offer three types of epoxy floor coatings:
Full broadcast epoxy floor coating– This is our most durable coating, and it's backed by a lifetime warranty. It offers superior protection against heavy foot and vehicle traffic, dropped objects, salt abrasion, and damage from ice-melting chemicals. With dozens of color and style options, this type of coating is great for garages and basements.
Liquid Art metallic epoxy floor coating – For a unique, eye-catching look, opt for this swirled metallic coating with a high-gloss finish. It's available in an array of beautiful colors, from classic neutrals to bold jewel tones. This is an excellent choice for kitchens, laundry rooms, rec rooms, and entryways.
Clear concrete sealant – This liquid sealant is meant for outdoor concrete surfaces like driveways, walkways, porches, patios, and pool decks. Its wet look makes the natural color of the concrete pop, and this coating makes the surface extremely easy to clean.
All our floor coatings are installed with our GatorShield moisture mitigation barrier. Not many other floor coating contractors offer this technology, but it makes a huge difference in terms of the longevity of your new floor by preventing premature damage from hydrostatic pressure.
Interested in a floor coating but don't want to have to move everything out of and back into your house? You don't have to lift a finger with GatorGuard's White Glove Service.
Don't Just Coat Your Floor—GatorGuard It
To learn more about the premier floor coating contractor serving the Huntington Woods area, contact GatorGuard today.