Expert Floor Coating Contractor Installing Premium Coatings at Homes Across Norwood, OH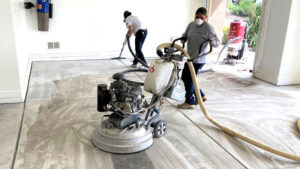 Are you tired of looking at the chipped, cracked, and stained concrete floors inside and outside your Norwood, Ohio, home? With a concrete floor coating installed by your local floor coating contractor, GatorGuard, you'll never have to worry about damaged concrete again. We offer premium coatings that will not only enhance the appearance of your concrete floors but will also protect them against damage caused by regular wear and tear.
The Epoxy Floor Paints We Install
When you partner with GatorGuard, you can have brand new floors in no time. We offer three exceptional floor coatings that are unmatched by any other floor coating contractor in the area. Our epoxy floor paint offerings include:
Full-broadcast epoxy floor coating – This concrete coating is an excellent choice for high-traffic spaces, including garages and basements. It is extremely durable, easy to maintain, non-slip, and resistant to scratching, cracking, and staining.
Liquid Art metallic epoxy floor coating – If you're looking for a flashier floor coating, then we are the floor coating contractor for you. Our Liquid Art coating is more than just something that protects your floors—it's a work of art. This coating involves unique swirling patterns and comes in a variety of vivid colors. It's ideal for basements, entry ways, kitchens, and other small spaces that don't experience heavy foot traffic.
Concrete sealing – Are you looking for a floor coating that can be installed on the concrete floors outside your home? Don't worry. GatorGuard offers concrete sealing that will protect your patio, driveway, walkway, pool deck, or any other outdoor space with concrete floors. Our sealing will protect your floors against the elements.
What's more, all our floor coatings are installed with GatorShield—a moisture mitigation barrier that protects your floors against the harsh effects of hydrostatic pressure—because we're a floor coating contractor that cares.
Turn To the Trusted Concrete Floor Coating Company in Norwood, OH
Are you ready to turn to GatorGuard for a professional concrete floor coating installation inside or outside your home? If so, call us today. We are the floor coating contractor homeowners trust throughout Norwood, OH, and surrounding areas. We look forward to hearing from you soon.