The Premier Floor Coating Contractor Trusted by Powell, OH, Homeowners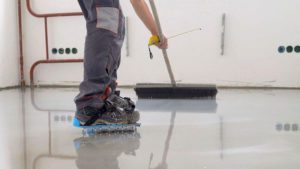 Tired of the oil stains marring your concrete garage floor? Or the cracks riddling your unfinished basement floor? If so, turn to GatorGuard for an epoxy floor coating. We offer a variety of floor coating styles and dozens of colors, patterns, and textures to choose from. As a top-notch floor coating contractor, we are dedicated to providing exceptional quality—in our floor coating products, customer service, and installation. We are pleased to serve homeowners in Powell, Ohio, and throughout the Midwest.
Don't Just Coat Your Concrete Floor—GatorGuard It
At GatorGuard, we offer three types of epoxy floor coating: full-broadcast, Liquid Art metallic epoxy, and clear sealant. Between these options, we can protect and revitalize a huge array of concrete floors and exterior surfaces, including:
Kitchens
Entryways
Laundry rooms
Rec rooms
Driveways
Patios
Pool decks
Outdoor walkways
Our floor coatings are not only beautiful, but they are also extremely durable. They are resistant to damage from foot and vehicle traffic, dropped objects, and chemical abrasion from salt and ice-melting chemicals.
We also set ourselves apart from other floor coating contractors by installing our GatorShield technology with every epoxy floor coating. This is a moisture mitigation barrier that protects your floor against damage from hydrostatic pressure. Without this barrier, an epoxy floor is likely to peel or delaminate.
If the thought of moving all your belongings around—twice—for a floor coating installation sounds like a deal-breaker, fear not. GatorGuard offers a White Glove Service so you don't have to lift a finger! We'll pack your belongings into a trailer, store it in a secure location while we work, and then replace everything just how it was after your floor coating is completely cured.
Learn More About the Area's Leading Floor Coating Contractor
To learn more about our epoxy floor coating options, contact GatorGuard today. We'll be happy to share more about what makes us the premier floor coating contractor serving the Powell area.