Professional Floor Coating Contractor Serving Royal Oak, MI, and Surrounding Areas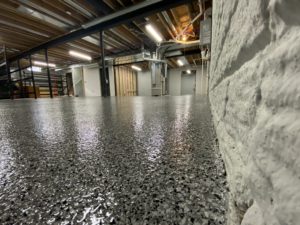 Are the concrete floors in your Royal Oak, Michigan, home's garage looking a bit worse for wear and in need of a pick-me-up? Perhaps your laundry room or basement flooring needs some updating. If so, GatorGuard is the floor coating contractor you need.
Our Flooring Solutions
At GatorGuard, we install epoxy floor coatings for interior spaces and concrete sealing for outdoor spaces. We provide flooring solutions for:
Basements
Laundry rooms
Porches
Patios
Driveways
Pool decks
And more!
Our floor coating options include: full-broadcast epoxy floor coatings, Liquid Art metallic epoxy floor coatings, and concrete sealing.
Full-Broadcast Epoxy Floor Coating
Our full-broadcast epoxy floor coatings are backed by a limited lifetime warranty and are best suited for garages, basements, and other interior rooms with bare concrete floors. They are durable, abrasion resistant, and low maintenance and come in a variety of different colors and styles.
Liquid Art Metallic Epoxy Floor Coating
If you're looking for a floor coating with a bit more flare, then our Liquid Art metallic epoxy floor coating may be exactly what you need. This floor coating is ideal for basements, entertainment spaces, laundry rooms, and other indoor spaces. It has many of the same advantages of our full-broadcast system while also being unique in its appearance. This floor coating comes in several colorways and features swirling designs and a high-gloss finish.
Concrete Sealing
Lastly, our concrete sealing is most suitable for exterior areas, such as driveways, porches, pool decks, and patios. Since these spaces are constantly exposed to the elements, they can wear down quickly. With our concrete sealing, your floors will be impermeable to moisture and resistant against damage from chemicals. It will also enhance the beauty of your floors.
No matter your floor coating or sealing needs, GatorGuard is the floor coating contractor with all the answers.
Your Local Concrete Floor Coating Company
Are you ready to take the next step in coating or sealing your Royal Oak, MI, home's floors? If so, contact your neighborhood floor coating contractor—GatorGuard. No matter the complexity of your project or how large your space is, our talented team can tackle your flooring project quickly and efficiently. We look forward to hearing from you!