Floor Coating Contractor Installing Premium Concrete Coatings for Shepherdsville, KY, Homeowners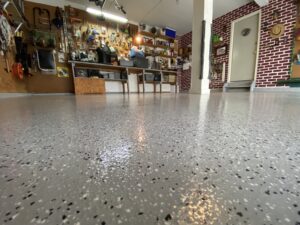 If you're looking for a floor coating contractor who will transform the concrete floors inside and outside your home, then look no further than the experts at GatorGuard. We offer a range of floor coatings, including our full-broadcast epoxy floor coating, Liquid Art metallic epoxy floor coating, and outdoor concrete sealing. Our premium floor coatings are built to be durable, beautiful, and long lasting—and you will no longer have to worry about staining or cracking your concrete floors.
GatorGuard is proud to serve homeowners in and around Shepherdsville, Kentucky, and we strive to provide a stellar customer experience. We understand a flooring project is no small investment, and we want to assure you that we will take care of you and your home every step of the way. That's why we offer a limited lifetime warranty on many of our products.
Our Floor Coating Products
As the state's premier floor coating contractor, we have two epoxy floor paints that are excellent for interior rooms, and a concrete sealing solution for outdoor projects:
Full-broadcast epoxy floor coating – With this coating, you can expect a low-maintenance, reflective, and non-slip surface that will protect your concrete floors against scratches, chips, cracks, and stains. This is a great option for garages and basements, and it is the only floor coating you will need to have installed for as long as you own your home—a claim we back with a limited lifetime warranty.
Liquid Art metallic epoxy floor coating – If you want something with more of a "wow" factor, then this is the floor coating for you. We call this "Liquid Art" because it is just that. With swirling patterns and bright, vivid colors, this will transform your plain concrete floors into a work of liquid art. We typically install this coating in laundry rooms, basements, and entertainment rooms.
Concrete sealing – We install concrete sealing for outdoor flooring projects. This sealing is an excellent choice for patios, porches, driveways, and any other area outside your home with a concrete floor.
Additionally, all our floor coatings are installed with a moisture mitigation barrier called GatorShield. This barrier will protect your concrete floors against issues such as peeling and delamination caused by hydrostatic pressure.
The Concrete Floor Coating Company You Can Count On
As one of Shepherdsville, KY's, most trusted floor coating contractors, GatorGuard is ready to upgrade the floors in your home. To learn more, call us today.