Expert Floor Coating Contractor Providing Concrete Flooring Solutions to Birmingham, MI, Homeowners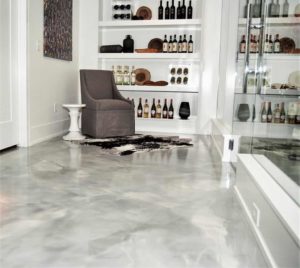 Have you noticed hairline cracks and stains on the concrete floors in your basement or garage? This is a very common problem for Birmingham, Michigan, homeowners. Concrete floors are strong, but they aren't invincible, and years of bearing the weight of heavy appliances and tolerating foot and vehicle traffic can take its toll on them. But with an epoxy floor coating or concrete sealing from GatorGuard—your local floor coating contractor—these issues can be a thing of the past.
GatorGuard is a family-owned and -operated business with a customer-first mentality. We provide only top-notch products and services to those looking for concrete flooring solutions. No matter the complexity of your flooring project, we can help you revamp the concrete floors inside and outside your home.
What Products Do We Use to Beautify and Protect Your Floors?
Our concrete floor coating company offers three concrete floor systems: full-broadcast epoxy floor coating, Liquid Art metallic epoxy floor coating, and concrete sealing. Each flooring system can be used in different areas of your home, with concrete sealing being best suited for outdoor flooring projects.
GatorGuard's full-broadcast floor coating is incredibly durable, easy to clean, low maintenance, and resistant to harsh abrasions. It also comes in a host of colorways and designs, so you can choose the best coating for your garage, laundry room, or basement.
Our Liquid Art floor coating has many of the same characteristics as our full-broadcast system, except it is also high-gloss and comes in an array of bold, metallic colors. It also features swirling designs and a dramatic visual appeal that is sure to impress any house guests.
Lastly, our concrete sealing is an outdoor concrete flooring solution that will protect your floors against the elements. This is a great choice for patios, pool decks, driveways, and more. After it has been applied, your floors will be impermeable to moisture, resistant to cracks and stains, and even more beautiful than before.
A Floor Coating Contractor You Can Trust
If you're worried about the possibility of hydrostatic pressure affecting your home's concrete floors, you can trust GatorGuard to properly protect them. All our flooring systems are installed with GatorShield—a water mitigation barrier—so your floors are well defended.
For more information on why you should trust GatorGuard to be the floor coating contractor that handles the concrete floors in your Birmingham, MI, home, contact us today.