A Floor Coating Contractor Providing Top-Tier Products & Installations in Fishers, IN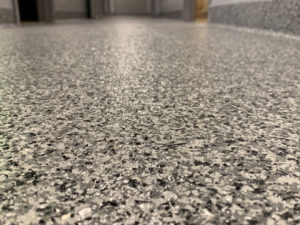 Whether in your garage, basement, laundry room, or patio, bare concrete flooring can be a hassle to maintain. It's all too easy for concrete to accumulate unsightly scuffs, stains, cracks, and chips. As the premier concrete floor coating contractor serving Fishers, Indiana, GatorGuard can help you break the never-ending cycle of cleaning, repairing and/or sealing concrete floors.
Why Have Your Concrete Floors Coated?
Unlike other concrete floor coating contractors, GatorGuard installs only best-in-class epoxy coating systems that are designed to provide a lifetime of:
Ease of maintenance – Our concrete coatings have an impermeable surface that resists scuffing and staining and is exceptionally easy to keep clean.
Beauty – With epoxy concrete coatings available in many different styles, colors, and patterns, it's easy to create a look that you love.
Protection – Our coatings are incredibly durable and will not only guard your concrete floors against cracks and chips, but also resist abrasion over the long term. They will even defend against corrosion due to salt and ice-melting chemicals that can quickly deteriorate concrete and result in the need for costly repairs.
A Variety of Coating Options to Choose From
As your floor coating contractor, we'll provide you with all of the information you need to make the best choice for your home.
Looking for a concrete coating that will last a lifetime and is available in an endless combination of styles? Our full-broadcast system is ideal. This coating system features industry-leading strength and features a full layer of PVA chips to create interesting patterns. Additionally, we offer Liquid Art metallic concrete coatings that can transform interior spaces, such as basements, into unique works of art. And, for protection of an exterior space, such as a patio, pool deck, or driveway, our concrete sealing is ideal.
No matter what coating system you choose, you can rest assured it will be installed the right way by experienced professionals. We allow each layer the time needed to mechanically bond to concrete. Plus, we install a moisture mitigation barrier with each floor coating to defend against hydrostatic pressure.
It's easy to see what makes GatorGuard the right floor coating contractor for your project in Fishers, IN. Contact us today to learn more about our services.