Trusted Concrete Floor Coating Contractors Serving Homeowners in St. Clair Shores, MI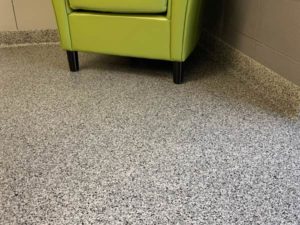 Epoxy floor coating is the best way to beautify and protect concrete floors in your St. Clair Shores, Michigan, home. However, don't be fooled into thinking that floor coatings are all one and the same. The fact is that epoxy coatings vary widely in quality, as does the workmanship of the companies that install them. What you need is a reliable floor coating contractor with a proven track record of providing premium solutions, expert installations, and personalized service. You need GatorGuard.
Concrete Floor Coating Options
As your floor coating contractor, GatorGuard can provide a wide array of coating systems to suit your specific needs and budget. We'll take the time to review all of your options, helping you make an informed choice. Our solutions include:
Full broadcast coatings – Our most recommended option is backed by a limited lifetime warranty, provides unparalleled protection, and is available in an enormous array of styles. It's the perfect option for garages and other interior spaces that experience heavy wear.
Liquid Art metallic coatings – Turn your basement or another interior room into a unique work of art. These colorful, high-gloss coatings will elevate your interior design while protecting your floors for years to come.
Concrete sealing – Protect outdoor spaces, such as patios, driveways, and pool decks from weathering and make it easier to keep them clean.
Installed by Experienced Professionals
At GatorGuard, we are floor coating contractors that prioritize quality above all else. In addition to offering high-performance epoxy coatings, we provide detail-oriented installations using proven-effective methods. For example, we don't provide one-day installations, as it doesn't allow the time needed for proper mechanical bonding to concrete. And, we always include GatorShield—a moisture mitigation barrier to stop hydrostatic pressure from causing delamination, peeling, and other common problems.
Call the experienced floor coating contractors at GatorGuard today to learn more about the benefits you can expect from an epoxy coating system in your St. Clair Shores, MI, home.